API Key¶
Usage¶
Client MUST set Private-Token HTTP Request header and set it with proper Key in order to get access to protected API
Example:
curl  -s -D - -k -H 'Private-Token: 12345'  https://noc_url/datastream-api-referencemanagedobject`

where 12345 is an API token key.
Roles¶
DataStream API¶
Access to DataStream API
NBI API¶
Web interface example¶
You should fill Name and API key as required fields. Also in API rows should be nbi or datastream. In Role row should be a role from tables above or * (asterisk)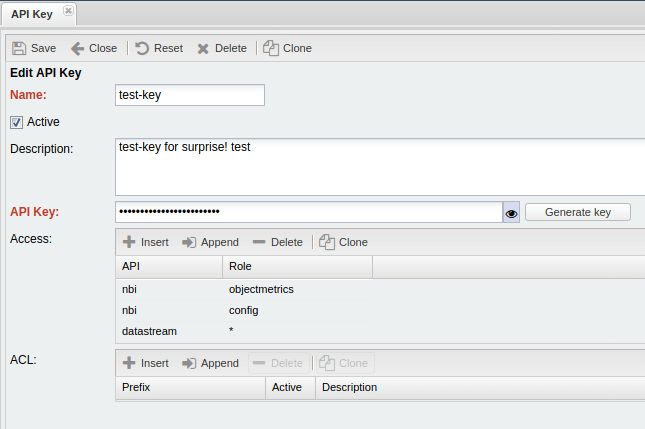 You can fill the ACL section or may leave it empty. Prefix field should be in a IP/net way.

Also there is an opportunity to allow requests to API only from whitelist IPs. You can find this option in Tower, in nbi/datastream service respectively.
Best Practices¶
Grant separate API Keys for every connected system
Grant separate API Keys for every developer, Restrict key lifetime
Grant separate API Keys for every external tester, Restrict key to short lifetime